The 3D design of the China Training Base, which ended recently, prints the public open day, and popularizes the knowledge of 3D design and 3D printing to the public. The on-site designated demonstration case is to use the 3D CAD design software to look at the 3D to make Kongming Lock Rubik's Cube. The pre-design was followed by 3D printing. How to operate specifically? This article will be detailed in detail.

We know that 3D printing technology, also known as rapid prototyping technology, must first be based on a computer 3D CAD design model file, through a 3D printer soft control system, and then using a powdered metal or plastic bonding material, through the layer by layer Stacking and superimposing to create a physical product. That is to say, the model designed by 3D design software is the root of 3D printing (also known as "modeling"). As for the rapid modeling and design of the Kongming Lock Rubik's Cube in this 3D design printing open day, it is not the focus of this article. Users who are interested in designing can go to the 3D official website to check related articles.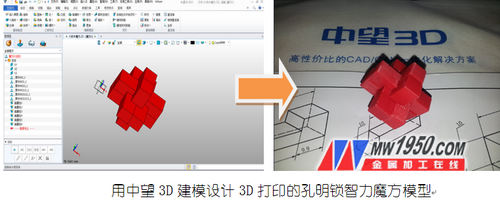 Common 3D CAD design software includes Solidworks, NX, and China 3D. Because Zhongwang 3D has flexible free-surface hybrid modeling function, it can meet the needs of enterprises for accurate design, and the function of direct output to "3D printer" (Print3D) is added in the 2013 version, which makes the user very convenient and quick. It interacts with 3D printers and prints quickly, so it is loved by the industry. Let's take a look at how to operate the 3D printing steps:

The first step: Since the 3D print file format is STL, the designed model drawing is first converted to the STL format using the Zhongwang 3D output. Zhongwang 3D has a complete input and output data interface, which is designed to seamlessly interface with 3D printing software . Select the "3D Print" button on the "File" operation interface (as shown below), you can automatically switch to the dedicated 3D printing software interface, without the need to manually convert the STL format for 3D printing programming.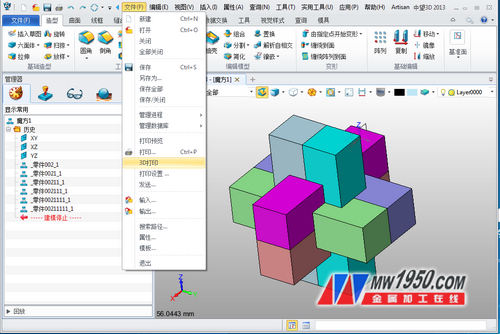 Step 2: Input the Kongming Lock Rubik's cube STL file to the print management software corresponding to the 3D printer. Since the 3D printer has a maximum print size, the position, placement direction, scale and print attributes of the product can be made according to the printer's reachable range. Adjustment.

Objet's 3D printers can use Objet Studio print management software to make pre-output product adjustments and print materials for print products. After the relevant settings are completed, it can be output to the 3D printer for actual product printing.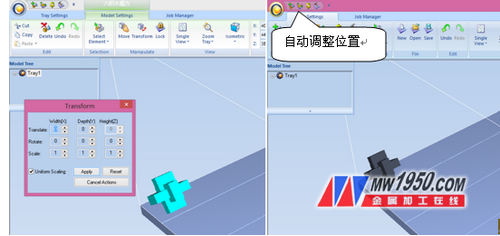 The parts can be adjusted according to actual needs. From the above figure, the original size is suitable for the printing operation, and the product placement position is adjusted and placed within the range of the printing workbench.
Specify the corresponding printed material
Step 3: Print operation by outputting printer function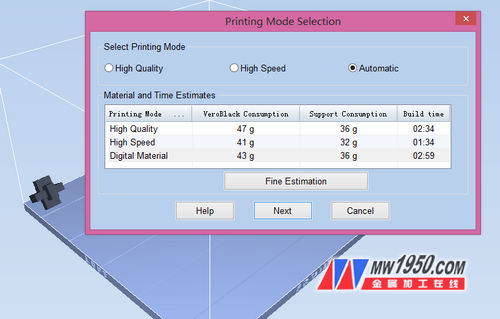 From the above figure, we can know that the time required for printing processing is 02:34, the weight of the product is 47g, the weight of the support is 36g, and the total weight of the required material is 83g. Finally, the product can be printed after the printer finishes printing. See below: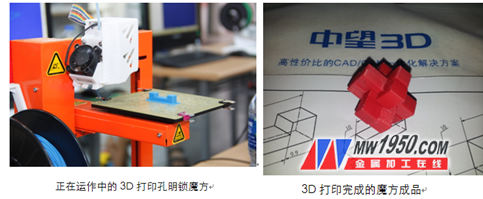 With 3D printing technology, we can quickly design, test and other new products. Especially for complex products, it can better reflect its advantages of rapid prototyping and cost saving. The use of Zhongwang 3D simple operation can quickly carry out the necessary physical modeling process in the early stage of 3D printing. Thanks to the original OverdriveTM core, Zhongwang 3D allows designers to work seamlessly on wireframes, solids and free Class A surfaces. Parametric design focuses on making complete and accurate models, so the free modeling process is fast and easy. . At present, the new version of Zhongwang 3D 2013 SP has been launched. In addition to supporting the 64-bit version, it is easy to open the 4G super-large drawing model, and there are more enhancements, CAM processing and more precise highlighting functions. Want to know the new features of the SP version, please visit the 3D official website.

About Zhongwang 3D 3D CAD/CAM Software

Zhongwang 3D is the preferred brand of 3D CAD/CAM software for military enterprises recommended by the Ministry of Industry and Information Technology, providing enterprises with cost-effective 3D CAD/CAM legal solutions, modeling, mold, assembly, reverse engineering, sheet metal, 2-5 axis machining. And other functional modules are available. Efficiently compatible with other 3D CAD software , integrated rich parts library, easy to learn and use, providing new learning tutorials and free download of 3D CAD drawings in the industry, making it easier for you to master 3D CAD design and CAM machining programming. Download the latest version now and apply for free 3D CAD/CAM & 3D printing technology training.

Water Pump Part Series
1) Aluminum die casting part/Water Pump Part series
2) Water pump part series conforms to ISO9001 standard
3) Clients' drawings and samples are highly followed.
4) Machining all sorts of styles, according to customers' requirements
5) Strong R&D center design system and strict inspection processes to ensure the water pump part series quality.
6) Aluminum Die Casting suitable for communications, auto parts, lamp part series, water pump part series, power tool series, radiator part series, anti-static flooring products and Other Series Products.




Water Pump Part Series Production Flow:
Drawings→ mould making →raw casting → sandblasting →rough machining or finish machining →surface treatment →product check→ packing →delivery strict




Our Advantage
(1) Ten years of experience in manufacturing and exporting water pump part series.
(2) OEM and custom-made service for water pump part series.
(3) All kinds of castings can be manufactured according to drawing, sample or specific industry standard.
(4) Strong engineering team makes high quality
(5) The coordinated service (casting, machining and surface treatment) make lower price possible.
(6) Advanced-level equipments.
(7) Full material testing process and quality control system.
(8) water pump part series quality warranty and on time delivery.




If you are interested, please contact us to talk about the details for water pump part series. You need to send us your drawing or sample to make mold first. Then we quote you price, if price accepted, we will open mold for you and send you sample before mass production.

Water Pump Part Series

Water Pump Part,Die Casting Water Pump Part,Aluminium Die Casting Parts

Ningbo Bowang Machinery Co.,Ltd , http://en.zjbwjx.com