Model NO.: fjf146

Type of Steel For Building Structure: H-Section Steel

Carbon Structural Steel: Q235

Residential Wall Structure: Bottom Wall Beam

Application: Steel Workshop, Steel Structure Platform, Steel Fabricated House, Structural Roofing, Frame Part, Steel Walkway and Floor, Steel Structure Bridge

Size: 22m*15m*5.8m

Roof Truss & Steel Column: Shs60*2,Shs50*2, Shs100*4, Shs200*100

Mezzanine System: Hot Rolled Steel Beam+Steel Deck

Roof Cladding: 0.5mm Corrugated Steel Sheet+50mm EPS Sandwich Pan

Wall Cladding: 75mm EPS Sandwich Panel

Window: Aluminum-Alloy Sliding Window with Security Mesh

Door: Steel Entry Door and Compound Wooden Door

Floor: Ceramic Tiles, Laminated Wooden Floor

Electricity and Plumbing: Australia Standard Wire and Water Pipe

Transport Package: Standard Package

Specification: as customer′s requirement

Origin: China

HS Code: 9406900090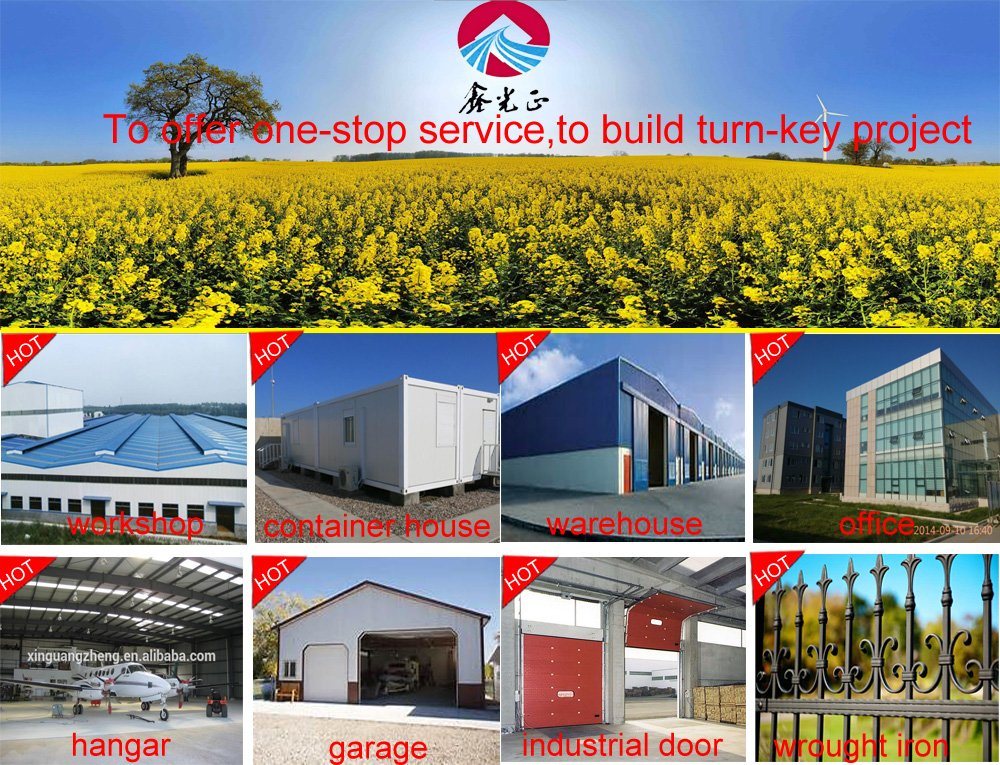 Description
steel structure building is a new type of building structure system,which is formed by the main steel framework linking up H section,Z section and U section steel components,roof an walls using a variety of panels and other components such as windows, doors,cranes,etc.
steel structure building is widely used in warehouses,workshops,large factories, etc.

Characteristics
1.Wide span: single span or multiple spans,the max span clear distance is 36m, without middle columns.
2.Low cost: unit price range from USD20 to USD80/square meter FOB according to customer's request.
3.Fast construction and easy in installation
4.Long term service life:more than 50 years.
5.Other characteristics:environmental protection, stable structure,earthquake resistance,water proofing,and energy saving.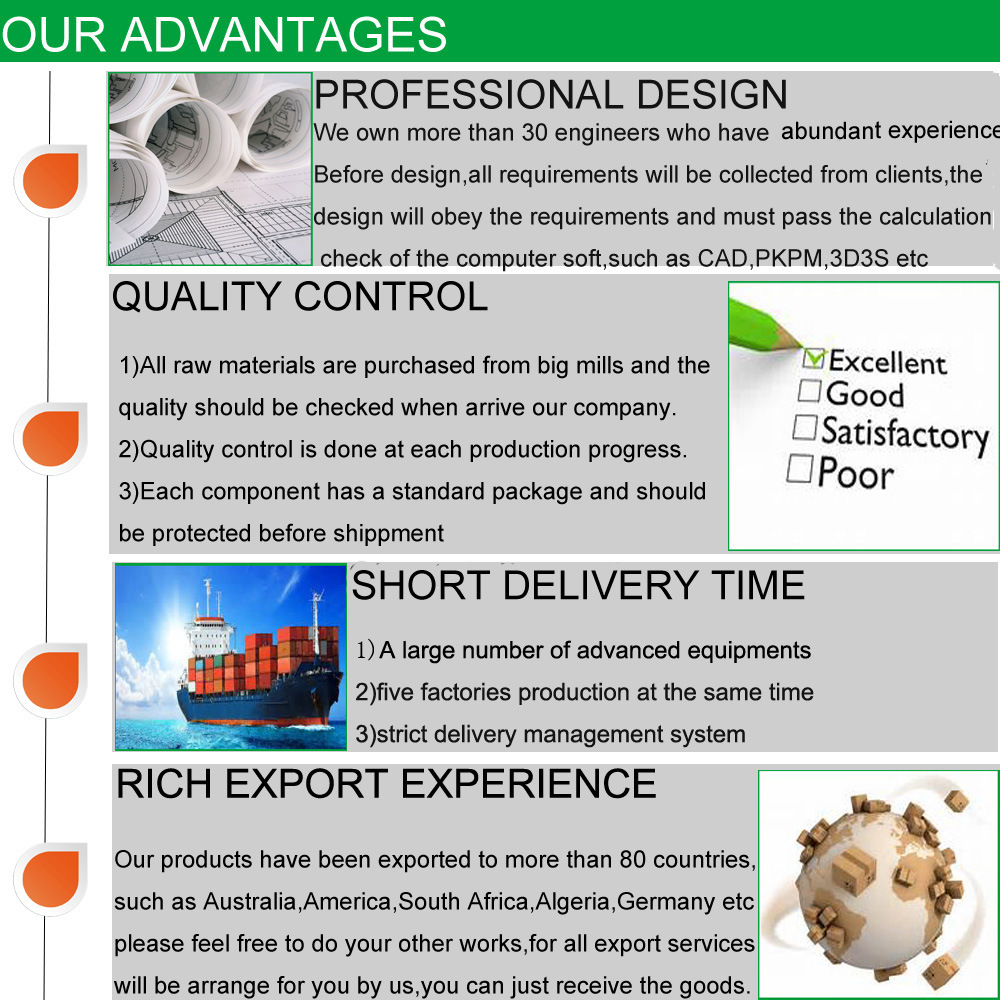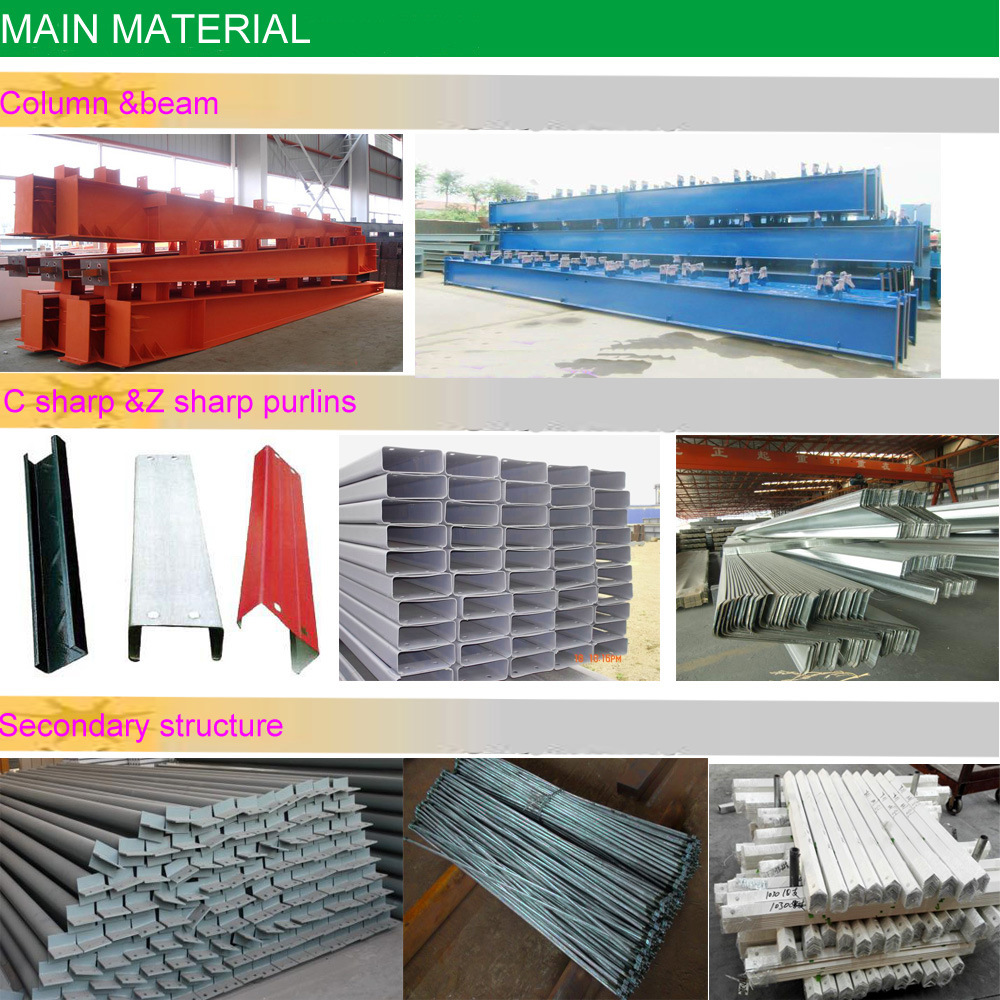 (1)Simple Steel Struture Warehouse
Main structure
Single span: L -shorter than 18m, H -lower than 6m
Maintenance system
Roof
Colored sheet with 50mm glass wool
Wall
Colored steel sheet
Door
Wind resistance rolling door(within 10m2)
Window
Very few
Suitable market
No snow, wind load below 0.4kg/m2
 
 
 
(2)Standard Steel Struture Warehouse
Main structure
Single span: L -shorter than 24m, H -lower than 8m
Maintenance system
Roof
Colored sheet with 50mm glass wool
Wall
Colored steel sheet or 50mm EPS sandwich board
Door
Wind resistance rolling door(within 15m2)
Window
Alu. Alloy (can use with skylight)
Suitable market
Snow loading below 0.5kg/m2,wind loading below 0.5kg/m2
(3)Coastal(High Wind Speed)Steel Structure Warehouse
Main structure
Single span: L -shorter than 18m, H -lower than 6 m
Maintenance system
Roof
Colored sheet with 50mm glass wool
Wall
Colored steel sheet or 50mm EPS sandwich board
Door
Wind resistance rolling door(within 15m2)
Window
Alu. Alloy (can use with skylight)
Suitable market
Snow loading below 0.7kg/m2,wind loading below 1.2kg/m2
(4)Cold Region(Heavy Snow) Steel Structure Warehouse
Main structure
Single span: L -shorter than 18m, H -lower than 6 m
Maintenance system
Roof
Colored sheet with 50mm glass wool
Wall
Colored steel sheet or 50mm EPS sandwich board
Door
PU foamed rolling door
Window
Alu. Alloy (can use with skylight)
Suitable market
snow loads below 3kg/m2, wind load below 1kg/m2
(5)Steel Structure Warehouse with Crane(5T,10T,15T,20T)
Main structure
Single span: L -shorter than 20m, H -lower than 10 m
Maintenance system
Roof
Colored sheet with 50mm glass wool
Wall
Colored steel sheet or 50mm EPS sandwich board
Door
Wind resistance rolling door (within 15m2)
Window
Alu. Alloy (can use with skylight)
Suitable market
Snow loads below 0.5kg/m2, wind load below 0.5kg/m2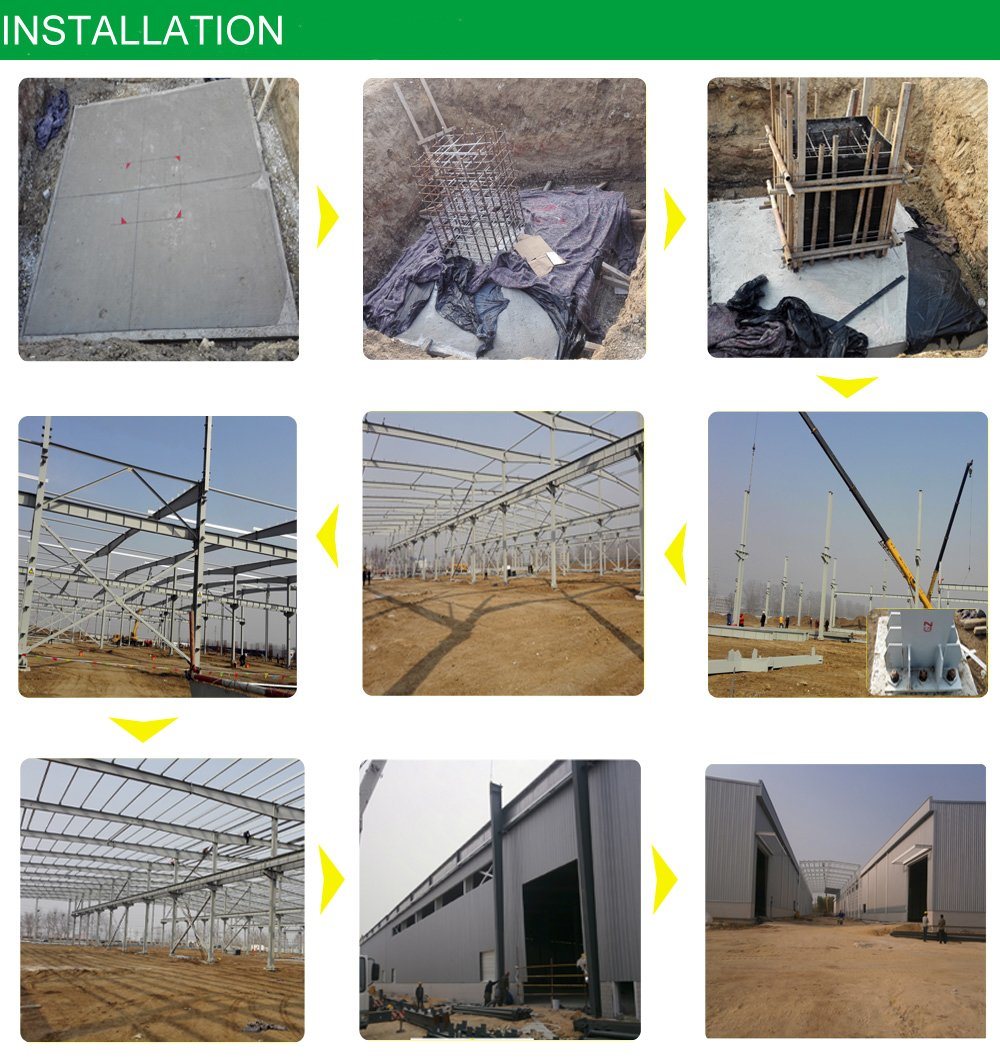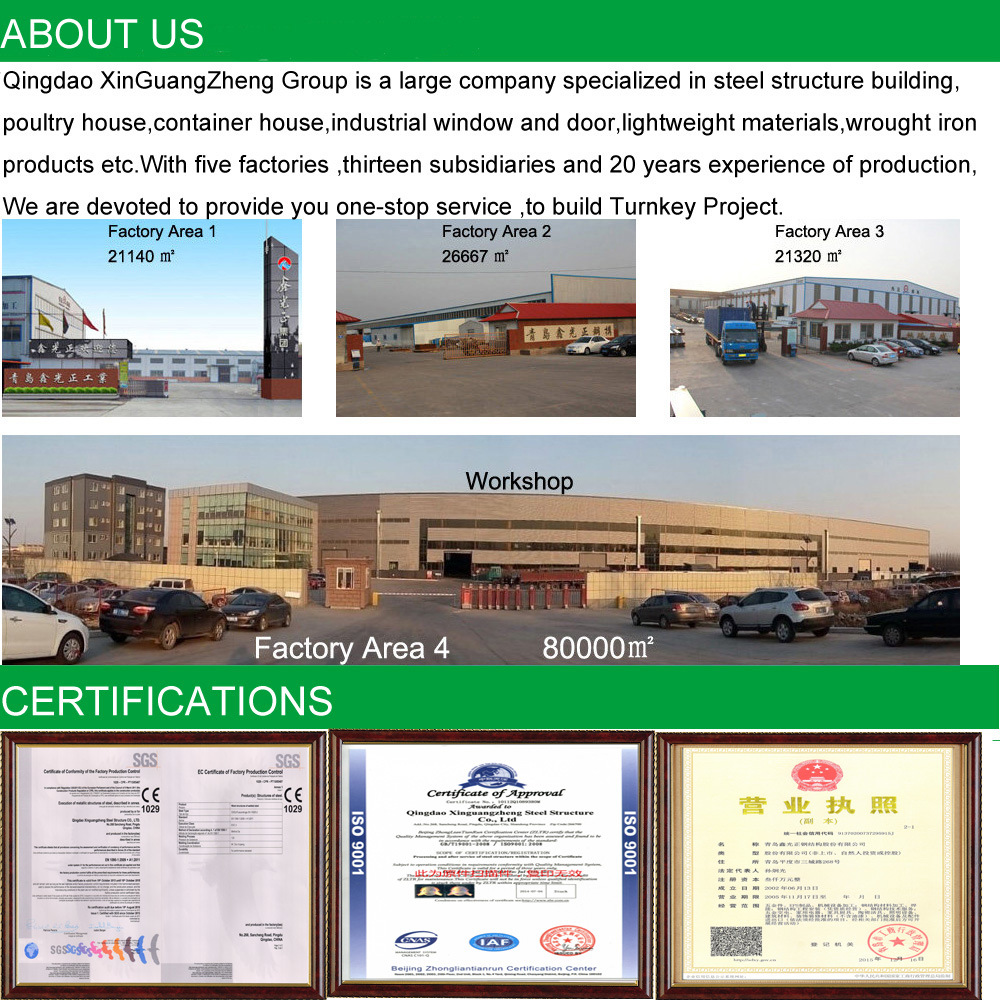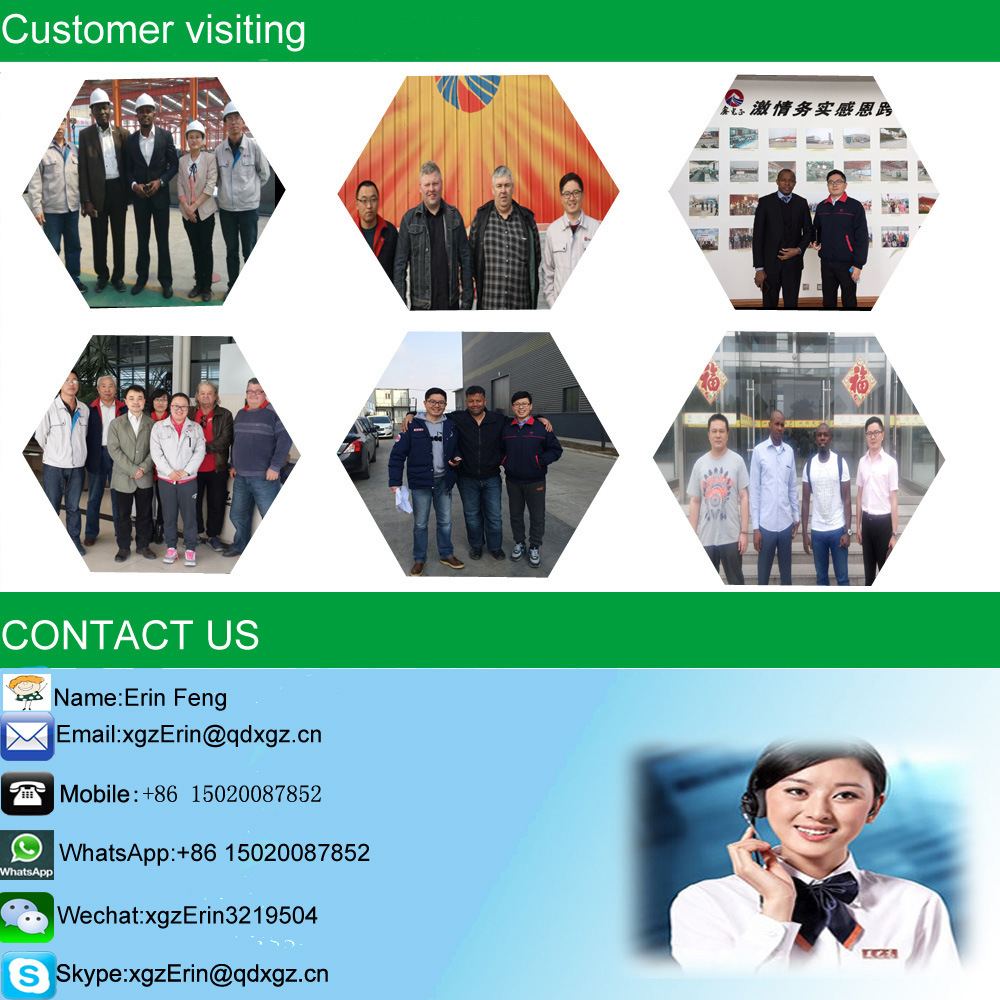 PVC Coated Garden Fence,Wire Garden Fence,Garden Fencing Netting,Garden Edging Fence Netting

Hebei Xinteli Co., Ltd. , https://www.sinohardwares.com